Dec 4, 2022 04:48 PM Central
Shawna Cale
Do you ever feel like your body is at war with you? It's more common than you think. We live in a world where our bodies are the first thing we look at when we wake up and the last thing we see before going to bed. Through social media and advertising, it's easy to get caught up that there is only one way for our bodies to look or be. You may even obsess over your body size or appearance as a way of taking care of yourself, but doing so can sabotage your efforts to feel good about yourself—especially if you're comparing yourself (unfairly) against others.
Our bodies are not the enemy.
Your body is not your enemy. Your body is a gift, a sanctuary, a safe place - it wants what's best for you. Sometimes we don't like what our bodies are telling us because society has taught us that our bodies aren't good enough. But your body is good enough. Your body is an incredible and powerful thing, and it deserves all the love in the world.
We are more than just our external body.
So often we just look at our body from an external perspective. We are much more than just our external appearance- we have an internal physical body and we are spiritual and emotional beings too. When we can look at ourselves from a broader perspective - what our body has done for us, what it allows us to do daily on this earth, how it houses our spiritual being and emotional being and connects us with ourselves, others, and God we can see who we truly are.
Peace with our bodies.
If we want to live in peace and not at war with our bodies we need to start by making peace with ourselves. The first step is awareness- asking our body questions like, "How do you feel?", "What do you need?" And then listening to what it tells us. When we make peace with our bodies, we can see we are a beautiful creation of God. We can appreciate the way it moves and feels, and how it enables us to do all that we need to do in this world. When we are at peace with ourselves and others around us, then true love will flow freely.
Regardless of what your relationship with your body is like today, you can change it. Start with small steps like teaching your body that it is safe and supported with somatic exercises and then move into self-care activities to show your body how much you truly care and love it.
❤️Shawna
If you are ready to take the next step and have more PEACE IN YOUR BODY.
.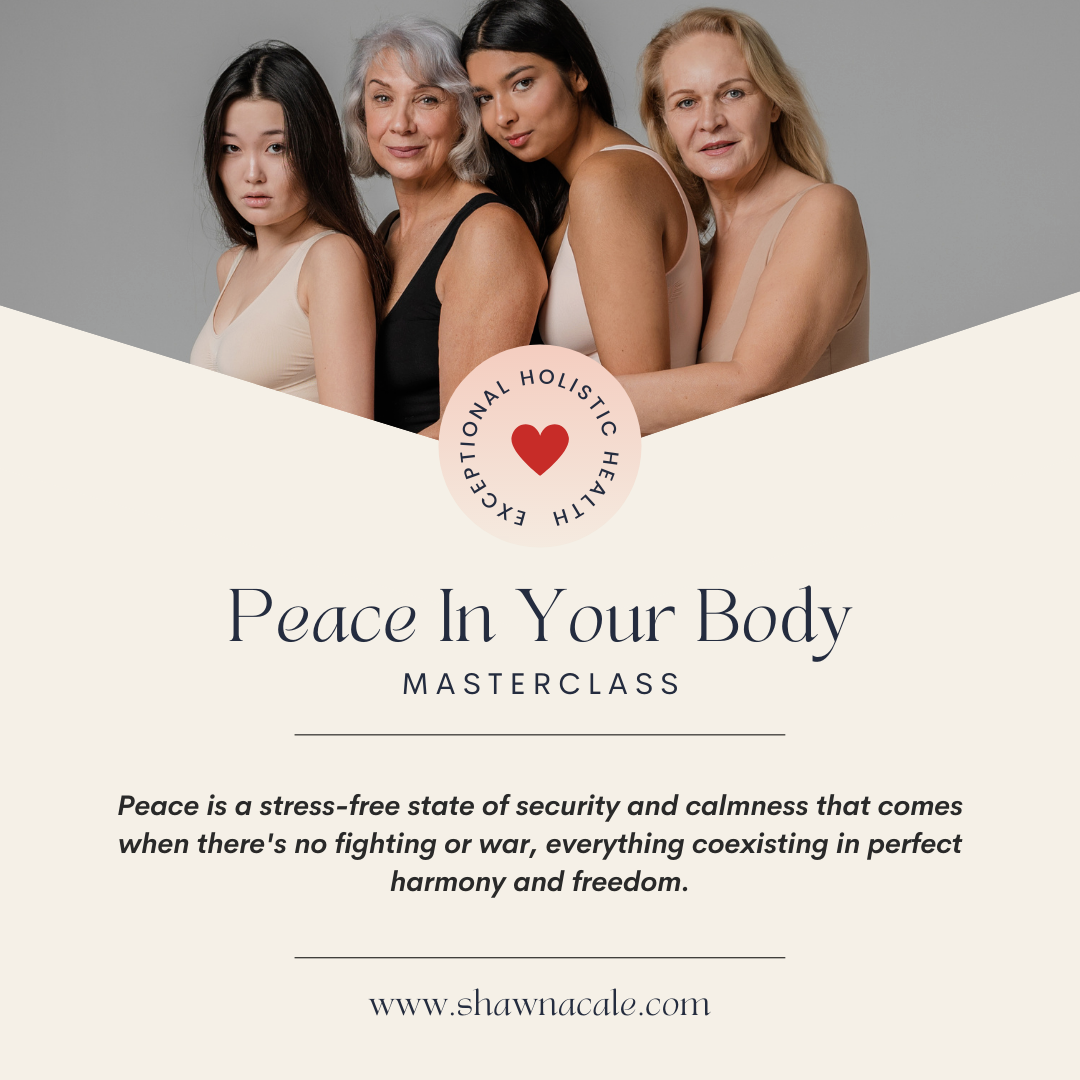 Join me in this masterclass to learn the
#1 reason
you
are not at peace with your body. How this
one
reason increases your risk for diabetes and heart disease and it's not a lack of exercise or your diet. You will leave with a clear path on how to feel more peace in your body after this experiential session.
Cost:
$10
*Free to all Exceptional Holistic Health Members
Become an Exceptional Holistic Health Member today by starting with the
21-Day Journey Trauma to Safety
course and receive all 6 December Masterclasses for FREE. Go here to learn more:
https://shawnacale.com/21-day-journey