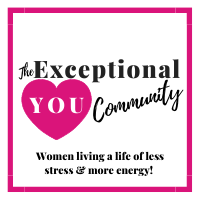 The Exceptional YOU Community
Are you a woman? Are you worn-out, stressed-out, overwhelmed? Are you ready to live a life of less stress and more energy? Then this is the PERFECT Community for YOU!
Join us!
We will encourage, uplift, and share our favorite tips, tools, and techniques to lower stress and increase energy!